The Equipment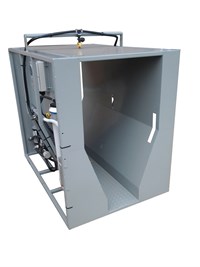 A portable automatic spray unit has been specially designed to atomise Thermoskin as sheep run through. Shorn sheep are covered in a totally natural film which helps them stay warm and maintain preshorn condition.
The spray unit is placed at the end of a race. The sheep enter the spray unit one at a time to ensure total coverage and protection.
Watch a brief video to see this in action.
The Thermoskin Spray Unit has 5 spray heads, the middle ones are adjustable if needed to suit any size sheep. It is available to purchase, or it can be hired from product suppliers. It needs to be cleaned at the end of each day to ensure spray heads do not get blocked. This cleaning procedure is simple and takes about 15 minutes, see below for more information.
Click here for an information sheet about the Thermoskin Spray Unit and cleaning procedure.
Storage:
Store the Thermoskin drum at 6 degrees celsius or above. Below this temperature the product may separate but it will reconstitute itself once brought back to room temperature.